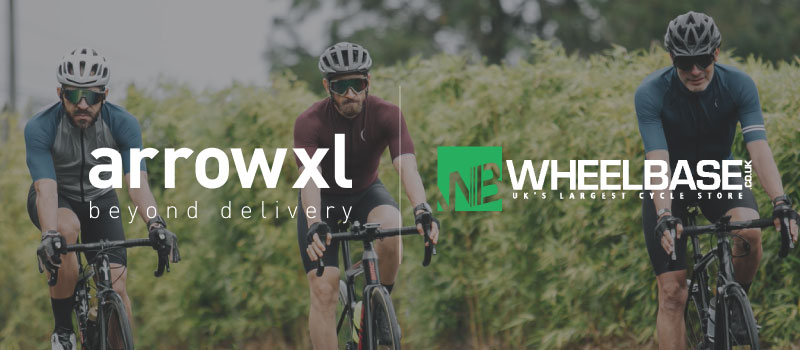 The Beginning of a 'Wheely' Good Partnership
Wheelbase, the UK's largest cycle store has awarded ArrowXL, the leading two-person delivery company with a contract to handle the delivery of premium, high-value bicycles all across the UK.
Wigan, Greater Manchester: Since switching delivery providers ArrowXL have supported Wheelbase by providing more capacity and 100% damage free delivery success with live tracking and a 30-minute delivery window.  ArrowXL are currently delivering a wide range of ready-to-ride bikes including lightweight carbon fibre road bikes, full-suspension mountain bikes and e-bikes to Wheelbase customers from their main site in Kendal.  This figure is likely to dramatically increase throughout the year as Wheelbase continue with their ongoing growth strategy.
Online sales for Wheelbase have grown exponentially over the past few years and the company has focused efforts on their website and IT systems to provide live and accurate stock levels, a click and collect service and a live online chat service.  It was important for them to find a delivery partner that could match this online operation with an equally astute delivery service. ArrowXL's 'askAXL' tracking web app, allows their customers to track their delivery in real time using the interactive map.
Toby Dalton, Co-owner at Wheelbase said: "We were looking for a delivery company that would provide our customers with an exceptional delivery service.  We pride ourselves on being an inclusive and friendly store for everyone who loves cycling.  ArrowXL have exceeded our expectations so far and we're looking forward to a continued successful partnership as our business expands."
Craig Kavanagh, Sales Director from ArrowXL commented: "We are delighted to be working with Wheelbase.  They're a great company with real vision and a desire to provide first-class customer service.  This contract demonstrates the strength of our delivery teams and their willingness to go above and beyond to ensure customers receive their bikes on the promised delivery date."
About ArrowXL
As the leading 2-person home delivery and warehousing specialist in the UK, ArrowXL delivers over two million customer orders every year. We are committed to innovation and continuous improvement - investing in technology, new services and training.
About Wheelbase
Wheelbase is the UK's largest cycle store.  We pride ourselves on being an inclusive and friendly store for everyone who loves cycling, whether that be road cycling, mountain biking, touring, commuting, family riding or e-Bikes.
For press enquiries, please contact: