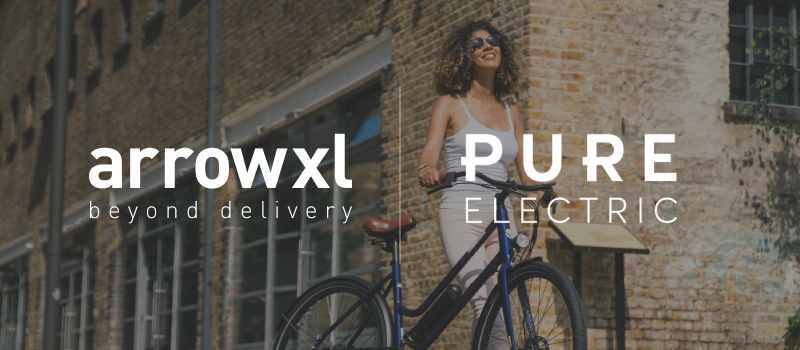 ArrowXL Pedalling Forward with Leading Electric Bike Specialist
Pure Electric, the UK's leading specialist electric scooter and electric bike retailer, has appointed ArrowXL to be responsible for delivering its full range of E-Bikes to homes nationwide as well as providing storage at their warehouse in Worcester.
Wigan, Greater Manchester: With their launch into the E-Bike market in June 2020, Pure Electric were looking for a delivery partner that would meet their best in class offering. The decision to change delivery partners is designed to ensure its growing customer base receive high levels of service across the whole purchasing process. Flexibility is key with customers now able to choose a delivery slot of their choice, via ArrowXL's diary booking service and benefit from delivery within a 48-hour delivery timeframe. This puts the control into the customers' hands so they can receive their product at a time convenient to them.
Tom Hook, from Pure Electric, said: "As a business we strive to be the best in class, setting the standard for the micro-mobility market, and we rely on our partners to achieve these standards. Ultimately, one of the key indicators for us is the final mile delivery and ArrowXL are able to provide this service and are supporting our business as our volumes increase ten-fold over the coming 12 months."
Craig Kavanagh, Sales Director from ArrowXL said: "For Pure Electric it is very much about the customer experience and we understand and share that ethos. Our full-service supply chain solution, including warehousing services, is supported by strong IT systems and years of experience, making us well placed to partner with leading manufacturers and retailers."
About ArrowXL
As the leading 2-person home delivery and warehousing specialist in the UK, ArrowXL delivers over two million customer orders every year. We are committed to innovation and continuous improvement - investing in technology, new services and training.
About Pure Electric
Pure Electric is the UK's leading specialist electric scooter and electric bike retailer, stocking market-leading ranges of e-scooters, e-bikes and accessories.   
We are driven by our desire to offer you the best products, objective buying advice and unrivalled customer service, while making a real, meaningful positive impact on the way we all travel every day. 
For press enquiries, please contact: