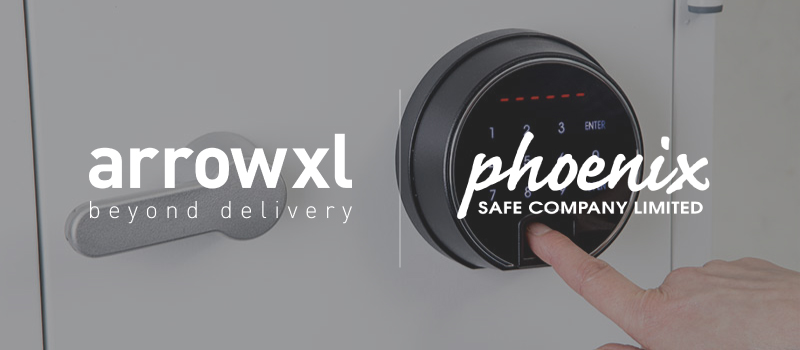 One of the UK's most established manufacturer of safes and security products, Phoenix Safe, has awarded ArrowXL with a 3-year contract in a move designed to help provide an enhanced customer experience as it continues to grow its product range.
Under the terms of the deal, worth in excess of £250K per annum, ArrowXL will be responsible for the delivery of a range of items to customers nationwide, including safes weighing up to 120kgs, gun cabinets, filing cabinets, key boxes, laptop and tablet security products. The remit also includes the new range of office furniture soon to be launched.
Daniel Thompson, Phoenix Safe Group MD (Europe), said: "ArrowXL has an unrivalled track record in the delivery of heavy, valuable items which is supported by some great technology. This means a better service for our customers who will benefit from good regular communication about the progress of their delivery along with the ability to choose a time and day that fits around their schedule from Monday to Saturday. We are excited to see this partnership flourish moving forward."
Craig Kavanagh, ArrowXL Sales Director, said: "One of the main challenges that comes with delivering specialist safes is the deceiving weight and size ratio. Our specialist delivery crews have the knowledge and expertise to ensure that every item is delivered safely (no pun intended!)."
About ArrowXL
As the leading 2-person shared user home delivery specialist in the UK, ArrowXL delivers two million customer orders every year. We are committed to innovation and continuous improvement - investing in technology, new services and training.
About Phoenix Safe Company
Phoenix Safe Company is one of the oldest UK manufacturers of safes and security products and can trace its history back to Liverpool in 1799. At that time it was known as the Richmond Safe Co Ltd and was supplying the maritime trade between England and the United States with iron banded or iron-clad wooden strongboxes and seamen's chests.
For press enquiries, please contact: