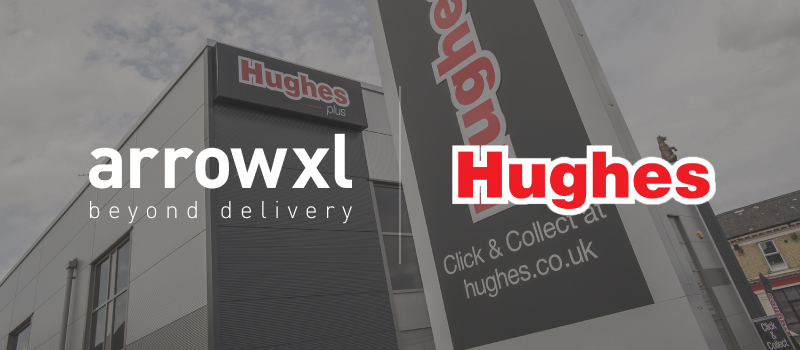 Hughes Extends Contract with ArrowXL
Hughes, the largest provider of home entertainment and kitchen appliance rentals, has extended its remit with ArrowXL to provide a 24-hour delivery service.
Wigan, Greater Manchester: It builds on a nine-year partnership that has seen ArrowXL provide a range of home delivery and connection services for customers using a nominated day delivery.
Under the terms of the new deal, a 24-hour delivery option will be added for key lines, with stock kept at ArrowXL's warehouse facility in Worcester. This will include 'essential' items such as replacement washing machines and fridge freezers. Additional product lines will be collected from Hughes distribution centre in Thetford and this currently equates to around 15 trailers a week for delivery to homes nationwide.
Depending on local lockdown guidelines, all items will be taken to and installed in the customer's room of choice for added convenience. Customers will be able to choose when they want the item delivered using ArrowXL's diary booking service and nominated day service, including 24-hour service where available. All items will be fully tracked and regular communication from the ArrowXL customer team provided about the progress of delivery.
Craig Kavanagh, Sales Director from ArrowXL said: "It's always a great achievement when we extend contracts with established partners as it underlines that we are trusted with an important part of the customer experience. Our ability to offer a range of delivery solutions makes us increasingly appealing to a wide range of organisations who are committed to providing high standards across the supply chain."
Simon Cox, Ecommerce Director at Hughes, said: "Our business was founded in 1921 and is now the country's 4th largest specialist electrical retailer and the largest provider of home entertainment and kitchen appliance rentals. It is vital that we have the right delivery solutions in place to support this and, importantly the right partner. Over the past nine years, ArrowXL has supported us in our growth and shown themselves to be a trusted partner."
About ArrowXL
As the leading 2-person home delivery and warehousing specialist in the UK, ArrowXL delivers over two million customer orders every year. We are committed to innovation and continuous improvement - investing in technology, new services and training.
About Hughes
Hughes was founded in Lowestoft, Suffolk in 1921 by Frank Hughes who trained as an electrical engineer after having served on the western front throughout the Great War. Originally the company rewound industrial electrical motors for Lowestoft's fishing fleet but in 1928 Frank bought his first shop.
To this day, almost one hundred years on, Hughes remains a true family business with the third generation under Robert and Jeremy Hughes now at the helm.
For press enquiries, please contact: