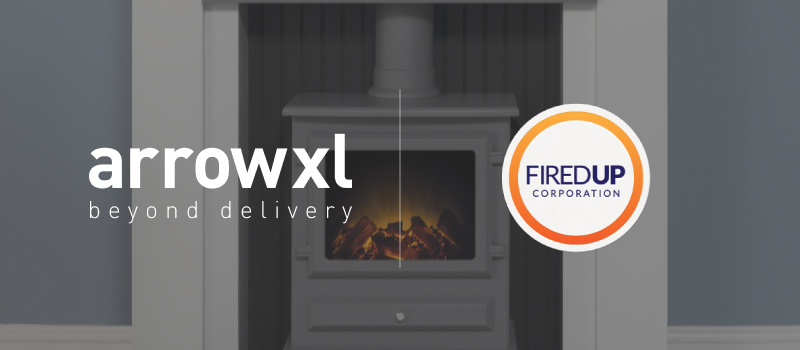 Fired Up Corporation, a leader in domestic heating and international hospitality markets, has switched to ArrowXL to deliver their large and often fragile products throughout the UK in a move designed to improve the customer experience.
Fired Up, established in 1998, has specialised in manufacturing fires and fireplaces for two decades and now operates in the UK, USA, Hong Kong and China. The Fired Up leadership team took the decision to partner with ArrowXL to improve service choice and convenience for their customers. The new contract is worth £350K per year and will see ArrowXL take responsibility for the delivery of the established fires and fireplace products under the Adam, Aurora and Corby brands.
ArrowXL will handle around 165 deliveries each week to both homes and commercial premises nationwide and will bring the item to the 'room of choice', unpack it and remove the packaging. Deliveries will be made Monday to Saturday with items fully tracked and regular communication from the ArrowXL customer team provided about the progress of the delivery.
Brian Hunter-Howard, Fired Up operations director, said: "At Fired Up we are committed to offering our customers products that are of the highest standard of quality and it is important that our overall service supports this. We wanted a delivery partner who understands and supports this ethos and ArrowXL has proven that they do. We are confident that they will be excellent representatives of Fired Up during the final stages of the customer journey."
Craig Kavanagh, ArrowXL sales director, said: "This is a complex operation as some of the products we will be delivering are fragile and can come in odd shapes that are difficult to handle. However, we are confident that we have the skills and expertise to manage this and to ensure that Fired Up's customers receive great service from us."
About ArrowXL
As the leading 2-person shared user home delivery specialist in the UK, ArrowXL delivers two million customer orders every year. We are committed to innovation and continuous improvement - investing in technology, new services and training.
About Fired Up Corporation
Fired Up was established in Huddersfield, UK in 1998 as a small manufacturer of fires and fireplaces. Over the past 18 years we have grown organically and through acquisition to be a global employer, operating businesses in the UK, USA, Hong Kong and China.
We operate three product brands; Adam, Aurora and Corby and across two industries; domestic heating and international hospitality.
For press enquiries, please contact: