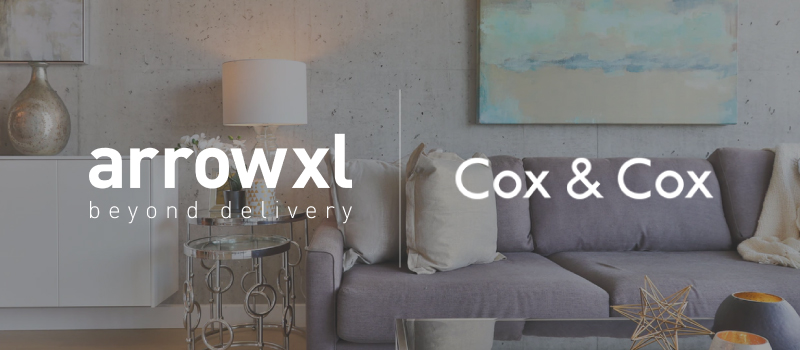 ArrowXL has secured a significant contract to provide warehousing and home delivery services across the UK on behalf of leading homewares company Cox & Cox. The new partnership is designed to ensure a shorter delivery time for customers and provide room for the fast-growing retailer to expand.
This new partnership will see ArrowXL responsible for the delivery of the company's larger items, requiring both one and two-person crews, to support the ongoing growth of its eCommerce business. The company is expected to deliver around 300 orders each week including items such as sofas, beds, tables and Christmas trees. In addition, ArrowXL will be providing a comprehensive warehousing solution for all large products from its site in Wigan, as Cox & Cox has outgrown its existing facilities this year.
ArrowXL was awarded the contract following a competitive tender where it impressed Cox & Cox with its flexibility and scalability, as well as its commitment to providing an exceptional customer experience, which is illustrated by an industry-leading Trustpilot score of 9.1.
Dan Pitman, Operations Director at Cox & Cox, said: "We are experiencing rapid growth as more and more individually minded customers fall in love with our hand-picked collection of unique and eclectic homeware products that help them to create a home with style and flair. ArrowXL has a fantastic track record and can quickly scale up and down operations to fit our needs, which is ideal for us as we continue to introduce new and exciting products at different times of the year."
Charlie Shiels, CEO at ArrowXL, said: "This new deal showcases the range of services we are able to offer. The scalability and agility of our warehousing and fulfilment model, together with our commitment to developing world-class delivery services, is increasingly making us the partner of choice for retailers."
About ArrowXL
As the leading 2-person shared user home delivery specialist in the UK, ArrowXL delivers two million customer orders every year. We are committed to innovation and continuous improvement - investing in technology, new services and training.
About Cox & Cox
Cox & Cox was launched in 2001 after founder, Fiona Cox, found herself inundated with enquiries for a wall decoration she had made as a stylist and presenter on the BBC's home makeover series Home Front.
Based in Frome, Somerset, all of our products are carefully chosen with you in mind. From inspirational, distinctive furniture and lighting, to attractive storage and decorative accessories, our ever-expanding online range combines brand new products and perennial favourites for a collection with the power to transform any space.
For press enquiries, please contact: