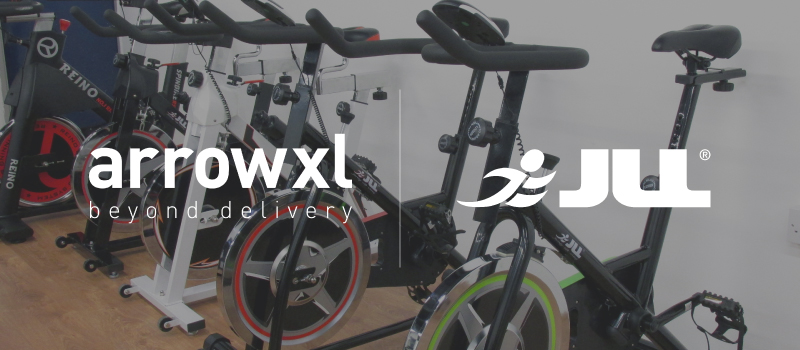 JLL Fitness Chooses ArrowXL to Support Unprecedented Demand
JLL Fitness LTD, the Birmingham based supplier of quality fitness equipment, has changed its delivery partner in a move designed to support an improved service for its customers.
The company, which has seen the number of orders quadruple during lockdown, has chosen ArrowXL as their two-person delivery specialist to provide a nationwide service, responsible for around 500 items each week.
Under the terms of the deal, wewill deliver a full range of large fitness equipment such as running machines, rowers and exercise bikes to businesses and homes, with items fully tracked and regular communication from our customer team provided about the progress of the delivery. Customers will be able to benefit from 48-hour delivery, six days a week with the ability to choose convenient delivery slots.
Luke Pollard, Assistant Manager at JLL Fitness Ltd, said: " At JLL we combine excellent products with outstanding service and it is this formula that gives us the confidence to know that millions of our customers all around the world are enjoying our fitness products and improving their health and fitness. As a result, our choice of delivery partner is vital and ArrowXL have the right skills, processes and expertise to support this."
Craig Kavanagh, Sales Director at ArrowXL, said: "Increasingly, quality led companies such as JLL Fitness are looking for a delivery partner that can support the high levels of customer service that are needed to support their business ethos. Convenience, communication and visibility are the bedrock of our services along with a true understanding of our customers' requirements."
About ArrowXL
As the leading 2-person shared user home delivery specialist in the UK, ArrowXL delivers two million customer orders every year. We are committed to innovation and continuous improvement - investing in technology, new services and training.
About JLL Fitness
JLL Fitness LTD is a Birmingham based supplier of Fitness equipment. We like to focus on the quality of our products and offer great value for money when it comes to our folding treadmills, commercial running machines, exercise bikes and fitness equipment.
For press enquiries, please contact: