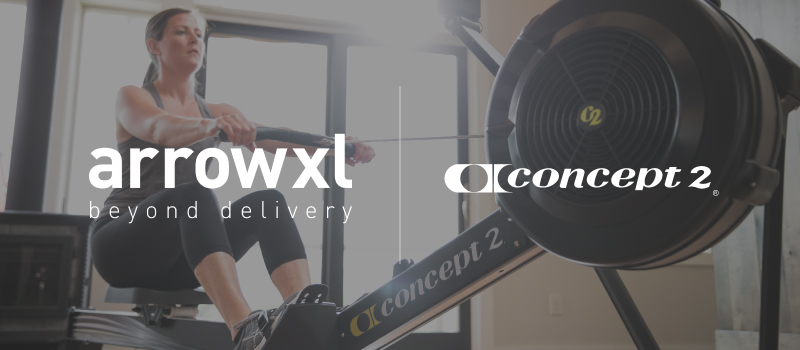 Concept2 Chooses ArrowXL to Support Customer Service Commitment
Concept2, the premium gym equipment provider, has chosen leading 2-person home delivery and warehousing specialist ArrowXL, to handle the delivery of its product range to households across the UK.
Wigan, Greater Manchester: It follows an increase in orders since the start of the pandemic as people continue to turn to home fitness with gyms remaining closed.
ArrowXL will receive all orders into Worcester before delivering items such as the INDOOR ROWER, BIKEERG and SKIERG. Depending on local lockdown rules all items will be taken to the customers' room of choice for added convenience.
Concept2 customers will be able to choose when they want the item delivered using ArrowXL's diary booking system, so customers can select their preferred delivery date. All items will be fully tracked and regular communication from the ArrowXL customer team provided about the progress of the delivery.
Jake Evans, Logistics Manager at Concept2, said: "We were looking for a courier who could offer a more dependable service to our home delivery customers, specifically in terms of reliability and ability to offer a delivery window on a specified date. ArrowXL has so far exceeded our expectations""
Craig Kavanagh, Sales Director from ArrowXL said: "Concept2 sell premium gym equipment and wanted a delivery service to reflect this. The 2-person diary service that ArrowXL offer fulfils their requirement perfectly in terms of customer expectation and service."
About ArrowXL
As the leading 2-person home delivery and warehousing specialist in the UK, ArrowXL delivers over two million customer orders every year. We are committed to innovation and continuous improvement - investing in technology, new services and training.
About Concept2
Concept2 began in 1976 in the back of a bread truck when Dick and Pete Dreissigacker, fresh from Olympic training, started making composite racing oars. Concept2 oars have since gone on to become the oar of choice among the world's rowers, and innovations continue right to the present-day.
For press enquiries, please contact: