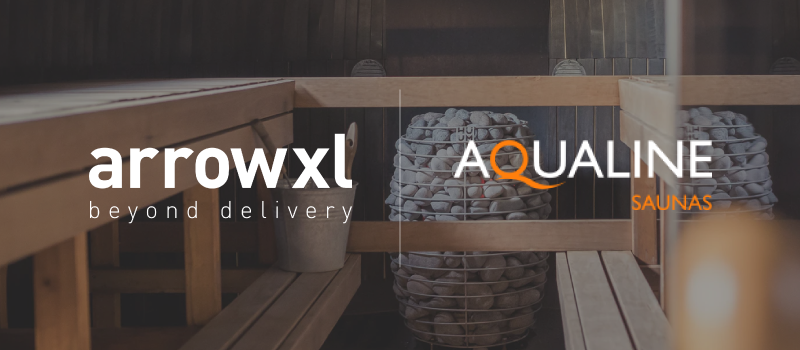 Aqualine Saunas, the leading supplied of top brand saunas and steam room in the UK, has appointed ArrowXL to support their significant growth which has seen their sales rise by over 50% since the start of the Coronavirus Pandemic.
We will provide a comprehensive warehousing and delivery solution for the company's SaunaMed range, which is flat packed and can be easily assembled in around 30 minutes. These will be stored at our facility in Wigan and delivered nationwide six days a week, with items fully tracked and regular communication from our Customer Experience team provided about the progress of the delivery.
Adam Kershaw, Director at Aqualine Ltd, said: "Now, perhaps more so than any other time in our recent past, there is an emphasis on health. As a result, people are increasingly using a sauna to raise their body temperature and activate their immune systems. The healing power of artificially induced fever has been well documented, and saunas capitalise on the way in which our bodies naturally provide the building blocks for health and longevity, working with the immune system, enhancing an already sophisticated network of defence processes within the body."
Craig Kavanagh, Sales Director, said: "Our service brings a number of benefits for Aqualine customers in terms of convenience, communication and visibility with our diary booking method allowing customers to choose a delivery date that suits them. This supports Aqualine's commitment to high levels of service throughout the whole customer journey."
About ArrowXL
As the leading 2-person shared user home delivery specialist in the UK, ArrowXL delivers two million customer orders every year. We are committed to innovation and continuous improvement - investing in technology, new services and training.
About Aqualine Saunas
Aqualine Saunas is recognised as the leading market supplier in Infrared Saunas, Traditional Steam Saunas, Portable Saunas, Saunas Heaters and Steam Rooms for both domestic and commercial applications and is a member of the Aqualine Ltd Group.
We are proud to offer the largest comprehensive range of top brand saunas and steam rooms in the UK.
For press enquiries, please contact: